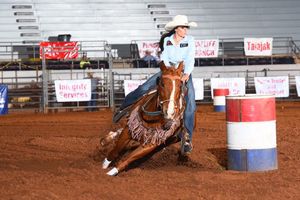 Delani Wood
Delani has been riding & training for several years now, she has trained almost all the horses she jr high, high school, & college rodeoed on. Delani made state in at least four of her five events every year in jr high, & at least four of six events in high school, Delani is a four time all round champion in region two THSRA. Delani has made several short round at college rodeos & is a money earner at pro rodeos. Delani does an outstanding job with every horse she swings a leg over.
Delani does most of our training and conditioning  here. Delani knows & understands what horses need in order to compete at their highest level.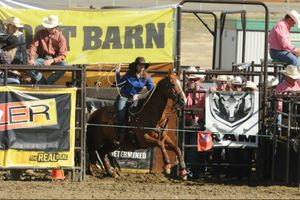 Cadi Wood
Cadi, has been roping, and rodeoing most all her life, in high school she made state in at least three of six events every year, in 2013 Cadi won second at the Texas State Finals in the breakaway and went on to nationals where she won the breakaway in Rock Spring Wyoming at NHSRA. Cadi also college rodeoed & made several short rounds and won all cowgirl around at Sul Ross state university rodeo. After college she went on to pursue her career in equine therapy, she started out with equine massage therapy & became certified to do so.
Cadi is head of our equine therapy and aqua treadmill, her goal is to help your equine partner compete and feel their best to perform their best. Please contact her concerning all you therapy needs or booking any appointments!
Cadi also trains & conditions horse along with Delani & together they make great horses